the scottish gemmological association
Susanne Belperron Book Review
Jewelry of Suzanne Belperron
By Patricia Corbett, Ward Landrigan and Nico Landrigan, 2015, Thames and Hudson Ltd, London, 239 pages, ISBN 978-0-500-51790-1. £50 hardcover
"Jewelry of Suzanne Belperron" provides a beautifully illustrated record of her life and work. The book repays the effort of reading the extensive text. There is a large number of illustrations including gouache paintings and tracings from the Belperron archive of designs and photographs of finished jewels.
The first eight unnumbered pages provide a useful introduction. The images of jewellery indicate the high quality of all the illustrations and the photo of Belperron wearing some of her own jewels makes clear the size of her jewellery; and the book's title is expanded with the significant quotation, "my style is my signature". The notes on page 6 are helpful in following the career of Belperron and knowing who she worked with to realise her designs.
Images of some of Karl Largerfield's personal collection of Belperron jewellery accompany his forward to the book and the four-part preface is written by Ward Landrigan, Nico Landrigan, Jean Herz, and David Herz. There are five "chapters": Coming of Age; Maison Boivin and Art Deco; Maison B Herz; The War Years; and A New Partnership.
"Coming of Age" opens with a reference to one of Belperron's patrons in 1936, "the King of England" and then reverts to describing the first 18 years of her life. Born Suzanne Vuillerme on 26 September 1900, we learn of the local cottage industry of lapidiares, that included her ancestors, "supplying rock crystal, precious and semi-precious stones to goldsmiths and watchmakers in nearby Geneva". There is much detail about her early life leading up to her enrolling in 1916 at the Municipal Schools of Music and Fine Arts in Besancon for the course in "industrial design for jewelry, metalwork and objects d'art". Images show the influence of local architecture and the materials available, for example, rock crystal and chalcedony, on her later jewellery. In 1918 she won the completion organised by the Besancon fine arts commission for her watch pendant in yellow gold with black and white champlevé enamel.
"Maison Boivin and Art Deco" begins with Belperron's move to Paris in 1919 for her first paid employment. She also attended free studio classes for women at Ecole National des Arts Decoratif and it is thought that through these classes she became acquainted with Madame Jeanne Boivin who had been running Maison Boivin since her husband's death in 1917. A brief history of Maison Boivin is set out. The authors suggest that perhaps Maison Boivin recognised Belperron's innate flair in choosing her to be the designer-draftswoman for the House. In 1924 she married her fiancé Jean Belperron, and in the remaining chapters there are occasional references to him and to their private life.
The chapter traces the change in style of Maison Boivin and records Vogue Paris December 1928 as having four photographs of Boivin jewels that show "Suzanne's inimitable style". Items in the Boivin catalogue were not ascribed to Belperron until recently, but it is said that her idiosyncratic draftsmanship enable her renderings to be easily identifiable. Distinctive features of Belperron's work are described and illustrated. The large number of images and the relevant text are not always immediately adjacent, but having so many images greatly outweighs any effort needed to link text and images. Occasional references to Belperron's ways of working, such as how she chose the stones to use in her pieces, should resonate with gem and jewellery enthusiasts.
"Maison B. Herz" In 1932 Belperron joined Bernard Herz, a premier diamond merchant and perlier. Speculation on the reason for her move is discussed and it is noted that she had added to the company (Boivin) records to indicate her designs suggesting that a desire for due recognition was a factor. She did not sign her jewellery saying simply "my style is my signature". This chapter, more than twice the length of any other, records something of the history of Herz and also of Grone & Darde who executed Belperron's designs. Most of the chapter provides detailed text about a wide range of jewellery and is accompanied by many images of designs for jewellery and jewels, and images of the jewels being worn by their famous owners.
"The War Years" This relatively short chapter describes the impact of the second world war on Belperron and those close to her, notably the Herz family and includes her takeover of the Herz firm to become Suzanne Belperron SARL in 1941. The production of jewellery continued and images show designs a little different from and lighter than earlier pieces.
"A New Partnership" refers to the new firm of Jean Herz-Belperron founded after the war. The story of this firm is described and the many images of Belperron's jewellery show once again her use of a wide range of gems in jewellery of all types. The business closed in 1974 and the chapter continues with details of Belperron's life in retirement up to her death in 1983. It concludes with references to jewels sold at auction and images of glorious jewels.
Finally the book concludes with an epilogue which touches on current developments concerning Belperron designs, an extensive bibliography, photographic credits and acknowledgments. I recommend this book.
Elizabeth Passmore
'The Silversmith's Art – Made in Britain Today'
An Exhibition at the National Museums of Scotland, Edinburgh
'The Silversmith's Art – Made in Britain Today'
An Exhibition at the National Museums of Scotland, Edinburgh
This exhibition comprises a collection of silver produced from the year 2000 until the present day, it represents the latest chapter in the current cycle of the Worshipful Company of Goldsmiths' external exhibitions. The 66 silversmiths featured in it represent the artistic range of talent in Britain today. Significantly, 33 are women where in the past the craft was mostly dominated by men. Perhaps, more remarkably 18 come from abroad and reflect very different cultures and traditions.
Their range of work is exceptional, diverse and highly creative. The Goldsmiths Company is the principal patron of the silversmiths art in Britain today highlighting an age old tradition in a very modern way. Today, most British silver manufacturers outsource production to the Far East but the silver displayed within the exhibition hall demonstrates that hand-made craft and studio silverware survives, perhaps by the skin of its teeth but certainly with tenacity.
The display is simple with all the focus on the objects. There are old friends here, Malcom Appleby has several items. His 'Millennium Casket' is one of the first things you see when you enter the room. It is embossed with a rising and setting sun symbolising the passage of time throughout the seasons and a large moonstone cabochon (something for the gemmologists) is evocative of the moon's influence on tides enhancing the imagery of the fundamental elements of life.
Another Scottish workshop represented is that of Adrian Hope, a graduate of Edinburgh College of Art. 'Preciousness is a hindrance' he says 'Usefulness a happy bonus'. There is a 'snow' bowl and a 'snowcord' vase. Subtle and beautiful.
In each artefact displayed we see a reflection of the designers view on life and personal philosophy. Each item is intensely personal. I think my favourite piece is 'Deluge Dish' made by Mirian Hanid in 2009. This piece is an enormous slab of silver almost a meter long. Miriam is inspired by the movement of water and her piece evokes the ebb and flow of Atlantic waves breaking on the coast. Hand formed with wooden hammers using the age old skills of repousse' and chasing she creates a flowing rythmn of wave like forms.
Please don't miss this exhibition. It is open until the 4th of January and is featured in the building that we all used to know as The Royal Scottish Museum – what ever happened to the 'Royal'? Entry is free but I wonder why such a wonderful exhibition is hidden away in an upstairs gallery and not situated in a more significant and accessible part of the building. There is a book to accompany the event, at £12.99, less if you are a member of the museum.
In addition to the images featured below, the following page gives a fuller selection. <http://thesilversmithsart.co.uk/exhibitors/>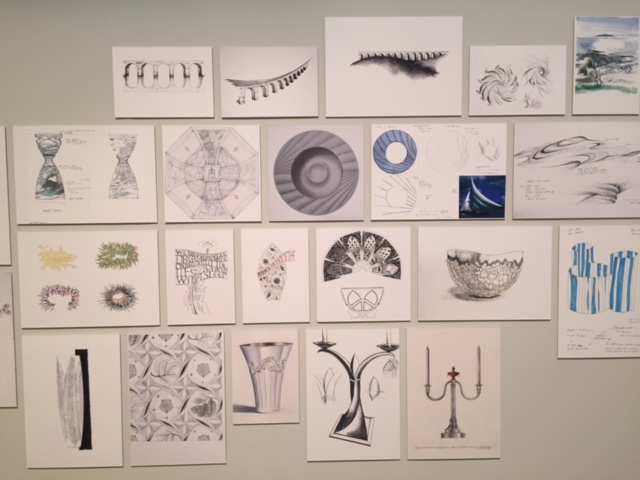 Catriona McInnes M.B.E. M.A. F.G.A was known to all who knew her, as the smiling, welcoming face of the Scottish Gemmological Association.

After gaining a degree in Politics & Economics, Catriona trained as a mathematics teacher, but it was when she joined the Glasgow Geological Society in the early 70's that she took a keen interest in geology, returning to university in 1976 to do a degree in the subject during which she helped catalogue mineral specimens for the Hunterian Museum.
She met her husband John on a fieldtrip and they soon married in 1977. They moved to Edinburgh in that year for John's work at the now " British Geological Survey". Catriona continued teaching in secondary school where she developed the course for the new subject of computer studies gaining her an M.B.E. in 1996 for her services to education.
All their spare time and holidays, along with their children and dog, were spent collecting minerals and gemstones. They visited many localities described by M. Foster Heddle in "The Mineralogy of Scotland" and have amassed an immense collection of Scottish minerals earning them a worthy and detailed mention as private collectors in "The Minerals of Scotland Past & Present" by Alex Livingstone.
Once the family grew up, they focused their holidays around visits to famous mineral localities in many parts of the world, both buying and collecting gemstones. Catriona did her Gemmology Diploma in 1997 and afterwards taught gemmology at the University as well as doing practical tutorials for Gem A students in Scotland and Northern England.
She set up her own business collecting and selling gemstones with a speciality in Scottish Gemstones. Sapphires from Lewis and Mull, Smokey Quartz from various areas in the Cairngorms, Prehnite from Loanhead Quarry Ayrshire, Garnets from Elie Fife and Tourmaline from Glenbuchat among a few.
Previously, Scottish students attaining their F.G.A. became members of "Eggs" Edinburgh Gemmology Group run by Brian Jackson but as the popular group was restricted in numbers due to its accommodation so there was no room for the newly qualified F.G.A's to join and continue their passion. Catriona with the help of friends resurrected the Scottish Branch of the Gemmological Association of Great Britain to encourage an interest in gemmology in Scotland. She took over the organisation of the annual conference in 1999, which went from strength to strength with her great enthusiasm and superb organisational skills making everything run like clockwork, allowing delegates time for fun as well as knowledge.
The S.G.A. was founded in 2008, Catriona was one of the five inaugural members and became the most wonderful secretary any organisation could have wished for. She helped established the S.G.A. Conference as the friendliest Gemmological Conference Worldwide.
Scottish Gemmologists have lost their shining star and special friend. She had a smile and kind word for everyone, giving of her time and enthusiasm so freely. We will all miss her and cherish her memory.
This article first appeared in Gems&Jewellery, July 2015. Composed by Gillian O'Brien and reprinted with permission from The Gemmological Association of Great Britain, Gem-A. <www.gem-a.com>